Beginning in 1987, when Takano Image Processing and Measurement Division first released its original brand of image processing inspection equipment, we have striven to continually improve the functionality of our products and expanded the range of applications. Takano now offers an extensive lineup of state-of-the-art products starting IC package inspection system, FPD(flat panel display) inspection system, film inspection system, battery-related material inspection system and measuring systems such as AFM (Automatic Force Microscope) and others.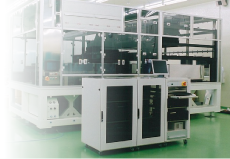 Main Products
Takano's capability of systemization offers more than just an inspection,
new technologies for process control
As a total supplier of surface inspection systems, Takano provides customized inspection and measurement systems to meet the production line concepts of customers to support realizing the ideal production process.
Yield improvement and quality control pose very important challenges in today's manufacturing processes. Accordingly, inspection machine requires system capabilities to control the entire production line. Such system capabilities built on image processing, optics, fine-scale measurement, and system construction, which are the four core technologies Takano has explored and developed as proprietary technologies over the years. In order to meet customer needs, these original technologies enable Takano to provide an extensive array of support ranging from optimal system proposals to modifications and after-sales services for installed equipment.
Takano inspection and measurement systems play active roles in flat panel-related processes and other diverse fields of semiconductors, PCBs, and next generation energy. The strong confidence of our customers provides evidence for the high added value provided by these products. Takano will take on the challenges of continuing to meet customer needs by looking one step ahead into the future.